Your Satisfaction...Our #1 Priority!
As a third generation family business, Smith Muffler has been pledging honesty, integrity, quality, and fair pricing to every customer we serve.
Since 1924, this dedication to customer satisfaction has been the catalyst of our continued growth. Generations of families have entrusted us with their automotive care and we take that trust seriously. If we don't meet your expectations, please let us know. Your satisfaction is our #1 priority.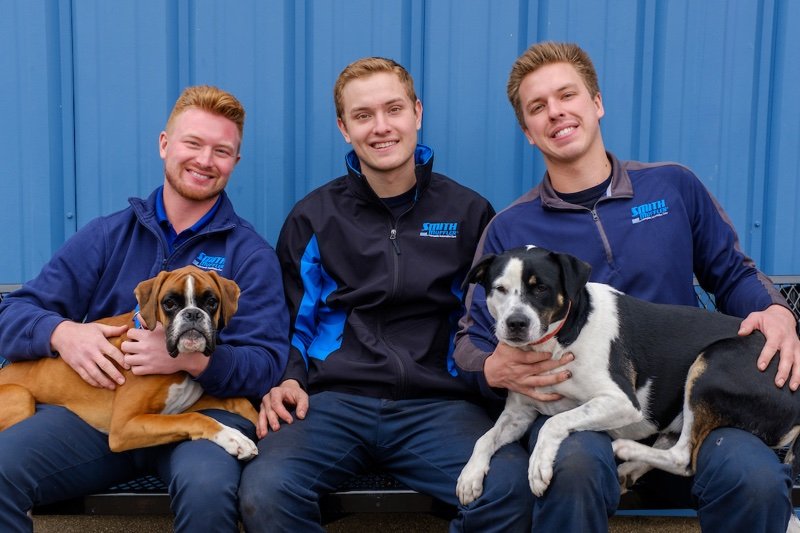 Jack K.
There is a reason this shop has so many 5 star reviews. In this business that is unheard of. I love this shop, the folks, the quality of service. Check out the chandeliers in the service bays. I've been taking my cars here for years. Price is fair, not cheap. Service and repairs are 5 stars.
JACK K.
via Google Reviews
Randy F.
It's easy to be skeptical when having work done on a vehicle, especially when it's expensive. However, Smith Muffler has always exceeded my expectations with their honesty and impeccable service. I highly recommend Smith Muffler.
RANDY F.
via Google Reviews
Charlie H.
Within 10 minutes of being there, they found the problem. Gave me a quote and started working right away. Took less time than they originally told me. Fair pricing.
CHARLI H.
via Google Reviews
Jack B.
Had one of our fleet vehicles looked at by 3 other mechanics. None could figure it out. Smith had it for 24 hours and it was fixed! AWESOME!
JACK B.
via Google Reviews
Jeanetta B.
I've taken various cars here for oil changes and repairs for about 20 years. They've always been courteous, and they are always up front about costs. They have always given me good service.
JEANETTA B.
via Google Reviews
CHEVROLET EQUINOX LT
Todd is an excellent mechanic and knows his stuff. Will keep going back to keel both my cars in working order.
CHEVROLET EQUINOX LT OWNER
via Carfax
Sara C.
I got stranded driving from Florida to Ohio. They looked at it and had it back to me just before 1pm and got me back on the road with no problems. Thank you so much for not taking advantage of the situation I was in.
SARA C.
via Google Reviews
Dodge Challenger
This is my first choice to stop whenever I need brakes or exhaust. The work was professionally done and it looks like the mechanic took true care. Highly recommended!
DODGE CHALLENGER SE OWNER
via Carfax
Shawn P
I priced many other muffler shops. Most quoted me twice as much than Smith Muffler. If you want the job done right and don't want to drain your wallet doing it then this is the right place.
SHAWN P.
via Google Reviews
Toyota Camry
Thank God for Smith's! They saved me 600 dollars and my car is now quit. I would highly recommend them to all my friends and family
TOYOTA CAMRY OWNER
via Carfax
Logan W.
The most friendly and kind people! I don't know much about cars which I explained to Lewie at the front desk. He and the mechanic made sure that I understood what needed to be changed on my car and why. I'll absolutely be back!
LOGAN W.
via Google Reviews
VOLKSWAGEN JETTA SE/SEL
Fast and reasonable. My new go to place! My exhaust pipe came apart. A local chain couldn't fix it... but this place got me in and out. Very pleased."
VOLKSWAGEN JETTA SE/SEL OWNER
via Carfax
Great Reasons to Bring Your Car in Today
No Appointment Necessary
Quick Oil, Lube & Filter
35 Service Bays
Free Downtown Shuttle
Commercial/Fleet Accounts
We Service All Major Brands
At Smith Muffler Complete Automotive Care we offer on the spot repair and maintenance work on a first come first served basis.  We strive to complete your repairs in a reasonable time frame and get you back on the road.
A Third Generation Family Business Since 1924.
Lew Smith quit school at age 16 to help his father run the business. In the early days, the business sold used parts and re-grooved tires. In 1952, Lew left for the Korean War. He was stationed in Germany as a ration clerk, issuing food to the troops. When he returned from the war in 1954, he went back to work for his father. He stated that he went to work every day, 7 days a week, and 10 hours a day.  "If you wanted to make a living, you went to work every day!" Lew built the shop at the current location of 5th and Main Streets in Covington in 1966. He started with 8 bays and 2 employees. He began by repairing mufflers and brakes only. He was no longer interested in working with tires! He married Marilyn Jean Hall in 1961. In 1962, Alan J. Smith was born, followed by Charles Michael in 1965. The family resided in Kenton County, Kentucky. Lew spent many long hours at the shop exhibiting the same strong work ethic he learned from his father to his sons.
The business expanded again when Alan and Mike began working full time in the 80's. In 1996, the shop added a second building at the same location. The business evolved again by offering complete auto repair. Sadly, Lew passed away in March of 2014. In January of 2015, Mike acquired sole ownership of the shop. Mike and his wife, Sandy, and their three boys currently run the shop. The oldest son, Lewie, can be found at the counter. Tommy and Charlie are out in the shop and all three are helping to carry the family business into the fourth generation. The business has grown from 8 bays to 35 bays and 2 employees to 25 full and part time employees. 
The shop is currently open 5 days a week, Monday thru Friday, from 8 am-6 pm.